SHINEE - SHERLOCK LYRICS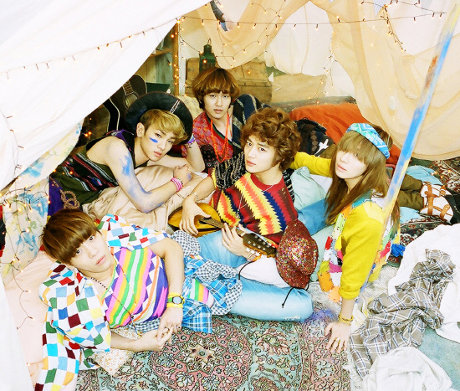 Romanization
[Minho] SHINee's back, SHINee's back
SHINee's back back back back back
[Jonghyun] Jigeumbuteo all stop eoneu nugura haedo
E hyunjangeul beoseonaseon an dwae
Myungbaekhan e sageon sokae ginjanghaji ma
[Onew] Nan milshi anaeseo deo jayuroweo imi
[Taemin] Neoae ddeollin soomgyeol hanakkaji nochiji ana
[Onew] Eunmilhagae norin shimjangae boseok
[Taemin] Neoae boolanhan geu shiseonkkaji kkweodduleosseo nan
[Key] Yongeusunsangae neol chajanaesseo nan freeze
[Jonghyun] Amugeotdo moreundan eolgullo neon
Nae mameul heundeuleo gihwereul noryeo
[Key] Du gaeae dap (Du gaeae dap)
[Taemin] Gin bam bulkkotcheoreom teojyeo baby
[All] Oh I'm curious yeah
Sajin sok nega
Soongan miseojieo wae
Oh I'm so curious yeah
I'm so curious yeah
[Minho] Haruaedo subaek beonsshik neol ddeo-ollida ddeolchyeonaeda
[Key] Nae meorisokeul chaeoon euimoon nega wonhan geosi mweonga
[Jonghyun] Sorido eopsi heulreo deuneun e soongani nae mamae
[Taemin] Soyongdolichyeo
[All] Oh I'm curious yeah
Sajin sok nega
Soongan geoleonawa wae
Oh I'm so curious yeah
I'm so curious yeah
[Onew] Jigeum nae apae neoneun shiljaehaji ana
Boonmyung aljiman neoreul shimmoonhagaesseo
[Jonghyun] Naega wonhan daedap neoneun algo isseo ne ipsooli
[Minho] Bitnatda sarajyeo
[Taemin] Eojjeom neon imi aratneunji moreuji nae maeumeun
[Jonghyun] Aechobuteo gootgae jamgiji anasseotji negaemaneun
[Key] Bumineun e anae isseo
Amudo nagal su eopseo
Neowa na eoddeon nugudo
[Minho] Neoae modeun geotdeulae da
Jeunggeoreul nal balgyunhaesseo
Neoreul kkok chajanaegaesseo (Teojyeo baby)
[All] Oh I'm curious yeah
Sajin sok nega
Soongan geoleonawa wae
Oh I'm so curious yeah
I'm so curious yeah
[Minho] Tonight, SHINee's in the house
[Jonghyun] So give it up, give it up, give it up for SHINee
Give it up, give it up, give it up for SHINee
Hangul
[민호]
SHINee's back, SHINee's back
SHINee's back back back back back
[종현] 지금부터 all stop 어느 누구라 해도
이 현장을 벗어나선 안 돼 명백한 이 사건 속에 긴장하지 마
[온유] 난 밀실 안에서 더 자유로워 이미
[태민] 너의 떨린 숨결 하나까지 놓치지 않아
[온유] 은밀하게 노린 심장의 보석
[태민] 너의 불안한 그 시선까지 꿰뚫었어 난
[Key] 용의선상의 널 찾아냈어 난 freeze
[종현] 아무것도 모른단 얼굴로 넌
내 맘을 흔들어 기회를 노려
[Key] 두 개의 답 (두 개의 답)
[태민] 긴 밤 불꽃처럼 터져 baby
[All] Oh, I'm curious yeah
사진 속 네가 순간 미소지어 왜
Oh, I'm so curious yeah
I'm so curious yeah
[민호] 하루에도 수백 번씩 널 떠올리다 떨쳐내다
[Key] 내 머릿속을 채운 의문 네가 원한 것이 뭔가
[종현] 소리도 없이 흘러 드는 이 순간이 내 맘에
[태민] 소용돌이쳐
[All] Oh, I'm curious yeah
사진 속 네가 순간 걸어나와 왜
Oh, I'm so curious yeah
I'm so curious yeah
[온유] 지금 내 앞에 너는 실재하지 않아
분명 알지만 너를 심문하겠어
[종현] 내가 원한 대답 너는 알고 있어 네 입술이
[민호] 빛났다 사라져

[태민] 어쩜 넌 이미 알았는지 모르지 내 마음은
[종현] 애초부터 굳게 잠기지 않았었지 네게만은
[Key] 범인은 이 안에 있어
아무도 나갈 수 없어
너와 나 어떤 누구도
[민호] 너의 모든 것들에 다
증거를 난 발견했어
너를 꼭 찾아내겠어 (터져 baby)
[All] Oh, I'm curious yeah
사진 속 네가 순간 걸어나와 왜
Oh, I'm so curious yeah
I'm so curious yeah

[민호] Tonight, SHINee's in the house
[종현] So give it up, give it up, give it up for SHINee
Give it up, give it up, give it up for SHINee
English
[Minho] SHINee's back, SHINee's back
SHINee's back back back back back
[Jonghyun] From this moment, all stop regardless of who you are
You can't escape this scene, don't be nervous of this clear incident
[Onew] I'm already more comfortable in the secret room
[Taemin] From your shaky breathing, I don't miss a thing
[Onew] You're secretly after the jewel of my heart
[Taemin] I've even pierced through that anxious focus of yours
[Key] I found you on the list of suspects, I freeze
[Jonghyun] With a face pretending to be innocent
You move my heart, you're looking for a chance
[Key] Two answers (Two answers)
[Taemin] This long night explodes like fireworks, baby
[All] Oh, I'm curious yeah
Inside the picture
You suddenly smile, why?
Oh, I'm so curious yeah
I'm so curious yeah
[Minho] I think of you then push it aside several times a day
[Key] Doubts fill my head, what is it that you want?
[Jonghyun] Without a sound, this moment flows into my heart
[Taemin] And thrashes around
[All] Oh, I'm curious yeah
Inside the picture
You suddenly walk out, why?
Oh, I'm so curious yeah
I'm so curious yeah
[Onew] You don't exist before me right now
I know that clearly, but I'll interrogate you
[Jonghyun] You know the answer that I want, your lips
[Minho] Shine and disappear
[Taemin] How did you already know?
You don't know that my heart
[Jonghyun] From the beginning
Wasn't locked up tightly for you
[Key] The culprit is in here
Nobody can leave
Not you, not me, nobody
[Minho] I've found the evidence
To all of your doings
I'll make sure to figure you out (Explode, baby)
[All] Oh, I'm curious yeah
Inside the picture
You suddenly walk out, why?
Oh, I'm so curious yeah
I'm so curious yeah
[Minho] Tonight, SHINee's in the house
[Jonghyun] So give it up, give it up, give it up for SHINee
Give it up, give it up, give it up for SHINee